Client Management System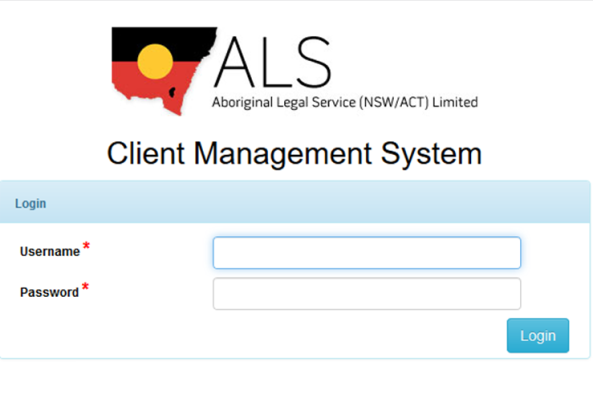 CMS is an online Client Management System that has been especially developed to suit the needs of Aboriginal Legal Services ('ALS'). It is aimed at meeting the requirements of the small-to-medium service and is being used by Legal aids across Northern Territory, New South Wales and South Australia.
How does CMS work?
CMS operates from the basic premise that there should be just one main Client record to which all Matters relating to that Client are attached. Where the Client is known by other names then these are held and link directly to the main Client record. This means you can search for any of a Client's known names and always retrieve the same Client information!
Client information is held in a group – with 'tabs' indicating the type of data held, e.g. Personal data, AKA (also known as), Family information, Matters. The Matters group holds data such as Matter Details, Charges, Actions, Court Appearances and Matter Closure. Data is entered in the same general sequence as on the paper files or records with special prompts and table values ensuring its consistency and completeness. Also has a Custody Notification Module built into it.
System Features
Special features of the Client Management System include:
Standard Reports & Letters.
Storage and reporting of court appearance, appointments and actions dates for production of Solicitors' Diaries, Resubmit lists and the like.
Linking of related Matters, e.g. for appeals against sentences or for co-accused.
Speedy recording of advice and information and referrals.
Storage of 'contacts', staff and solicitor (staff or non-staff) details.
System security through the use of User Identifiers and Passwords.
Comprehensive User Manual and on-line Help.
A Test database to allow users to try out new features or those with which they are not familiar without jeopardizing the integrity of the production data.
(Under Administrator control) combination or deletion of duplicate Client or Matter records.